Welcome back to Weekend Driver! I want this newsletter to be inclusive and interesting to all enthusiasts. So this issue is a slight departure from the higher end exotic stuff that has been featured the last few issues. Let's get to it!
---
1972 Datsun 240z (Vintage Restoration Program)
Mileage: 70,000
Price: Auction Ending Tuesday June 23, 2020
VIN: HLS3068727
Link: Bring a Trailer
I've always liked the original Zs and the 240z in particular has an amazing shape. Last year the market started to notice these cars in a big way, sending prices stratospheric. We've seen them sell for outrageous numbers (see here, here, and here, just to name a few) and this one will be no different. This example was one of ~37 selected by Nissan North America to undergo a "factory" restoration. The work wasn't actually done at a Nissan factory but at a Z specialist in California. The car was fully disassembled and reconditioned and the results show, it looks showroom fresh.
---
2014 CTS-V Wagon (6MT)
Mileage: 21,000
Price: Auction Ending Monday June 22, 2020
VIN: 1G6DV8EP5E0183090
Link: Bring a Trailer
Where's my wagon gang at?! This Caddy is packing north of 550 screaming bald eagles erupting from it's supercharged V8. Not only that, but you get the distinct pleasure of conducting that symphony with a proper manual gearbox, and you get to do that from the comfort of factory heated/ventilated Recaro seats. This one has been modified a bit so the exact power figures are unknown. It's also had the supercharger replaced, which is a very common failure with these cars. It seems like perfection - but then you run the CarFax. In the closing hours of this auction, it has come to light that in the last month (30 days) CarFax has started retroactively reporting damage on the car. The seller claims to have no knowledge of any damage beyond the minor imperfections already noted in the listing and the CarFax they provided initially (dated 6/4/2020) is clean. It's a shame that CarFax has become unreliable and can ruin the value of cars with delayed information unbeknownst to the seller. (I have my own terrible experiences, but that's a story for another time).
---
2000 Honda S2000
Mileage: 29,000
Price: Auction Ending Monday June 22, 2020
VIN: JHMAP1149YT000448
Link: Bring a Trailer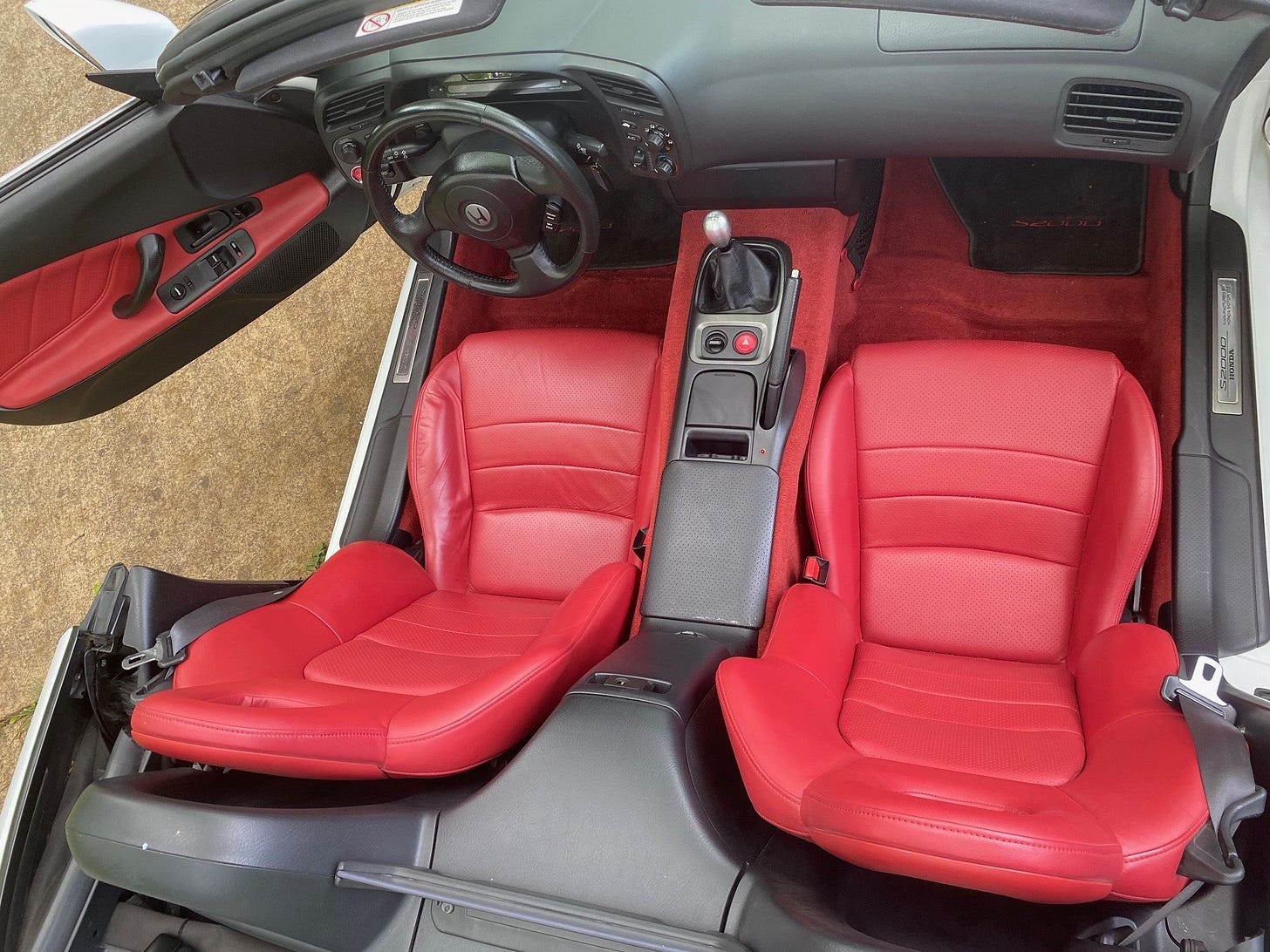 You must be saying to yourself, "another low-mileage S2000, why??". The answer is simple, because I run this show and I'm a sucker for Grand Prix White 😍. I don't think this is the one to set any records, but it will bring a strong number for sure.
---
1994 Celica GT-Four (ST205)
Mileage: ~122,000 (197,000 kilometers shown)
Price: Auction Ending Tuesday June 23, 2020
VIN: ST205-0002797
Link: Bring a Trailer
A homologation rally car, yes please!! This GT-Four is one of 2500 built to allow Toyota to compete in WRC Group A, and this platform won the series in 1995. These cars are still unappreciated in the market and you can get them for a relative bargain. Homologation cars are always a good buy; not only are they limited production, but they carry real historical significance.
---
1991 GMC Syclone
Mileage: 29,000
Price: Auction Ending Thursday June 25, 2020
VIN: 1GDCT14Z4M8801035
Link: Bring a Trailer
I can only imagine what these must have been like in the 90's - I'm guessing it was pretty wild. 280hp, 350 lb·ft of torque, AWD, all in a pickup truck, hell yea! Syclones (and Typhoons) are trending deep into collectible territory so if this something you'd hoped to own and drive, I suggest jumping on the train sooner than later.
---
2001 Acura NSX-T (Pre-facelift NA2)
Mileage: 13,000
Price: Auction Ending Tuesday June 23, 2020
VIN: JH4NA21661T000021
Link: Bring a Trailer
The original NSX was sold from 1991 to 2005, and near the end of that run it was heavily criticized as being more or less the same car for 15 years with only one major revision. That's not entirely accurate. In 1998 there was a mechanical revision which increased the engine displacement from 3 liters to 3.2 liters and swapped the 5-speed gearbox for a 6-speed. The design remained unchanged until 2002, when the pop-up headlights were replaced with the fixed headlights (referred to as the "facelift"). That's what makes this car so special; you get the RAD pop-up headlights with the updated internals. I'll be keeping a close eye on this one as the NSX is near and dear to my heart.
---
If you haven't already, please subscribe below so you can be the first to know when new issues get posted. If you have subscribed, share it with your friends!
Have a car you think should be featured? Message me on Instagram @revmatch_garage