Welcome back to Weekend Driver! This issue is packed with special editions, limited production runs, and one very rare color. Let's see what we've got…
---
2017 Mercedez-Benz G550 4x4^2
Mileage: 3,199
Price: $240,000
VIN: WDCYC5FF1HX281340
Link: Ferrari Chat
The G-Wagon 4x4 "squared" is absurdity incarnate. A quarter of a million dollars will get you the flex you so desperately need - without having to drive an actual sports car. While the vast majority will only see pavement, these are serious off-road machines with 18" of ground clearance (thanks to the portal axles). This car was a very limited production run, with an estimated 300 produced for the US, which is what is driving the collectibility and price.
---
2008 Honda S2000 CR (Apex Blue Pearl)
Mileage: 26,200
Price: $55,000
VIN: JHMAPXXXXXX001478
Link: s2ki
What we have here is one of the most collectible S2000s in existence. This particular example has enough mileage to justify being driven, while still appreciating steadily. The seller notes that the front bumper has been replaced due to a minor impact from some black ice. Since this gives evidence that the car was driven year round, I would urge any prospective buyers to inspect closely for corrosion. Still, I think the price is fair, and the rest of the car appears to be original and well kept.
---
1992 Acura NSX (Grand Prix White)
Mileage: 86,100
Price: $60,000
VIN: JH4NA1150NT000975
Link: NSX Prime
When I came across this ad I was surprised it was still available, since it was originally listed back in February 2020. Grand Prix White NSXs are extremely rare and it's not uncommon for them to carry a $20k+ premium over comparables in any other color. My opinion: the modifications on this one are likely what's holding it back because the market tends to prefer originality. But if I were in the market, this would be top of my list - I'm looking for a car I can enjoy. The modifications are all quality parts from reputable companies and anything you don't like can be easily sold and returned to stock.
---
2019 Porsche 911 GT3 (991.2 PTS Touring)
Mileage: 2,242
Price: Price on Request
VIN: WP0AC2A90KS149102
Link: Porsche Fairfield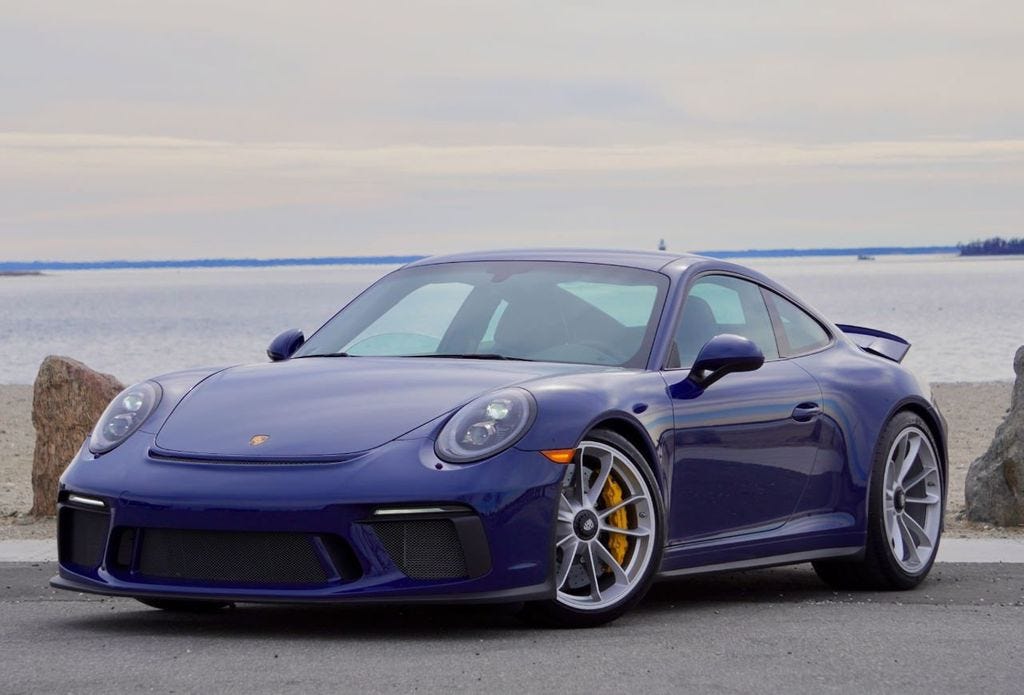 You might want to put on a bib for this one. Much like the Arancio Borealis CGT I featured, I would love to meet the original owner of this car. Let's break down the spec by the numbers: Your average 991.2 GT3 starts at $144k. The sticker on this particular car was $244k. The brown Tarpan leather throughout the interior (including the carbon buckets) was a $45k "special wishes" option. It's also the only 991, aside from a 911R, to be approved for this leather-to-sample option. The paint-to-sample Albert Blue was $13k. On top of all of that, there's $42k in other miscellaneous options. Just wow. The price is not listed, and based on all of these numbers, I wouldn't be surprised if they're asking sticker or more.
---
2017 Ferrari F12 TDF
Mileage: 247
Price: $995,900
VIN: ZFF81BFAXH0224563
Link: Towbin Motorcars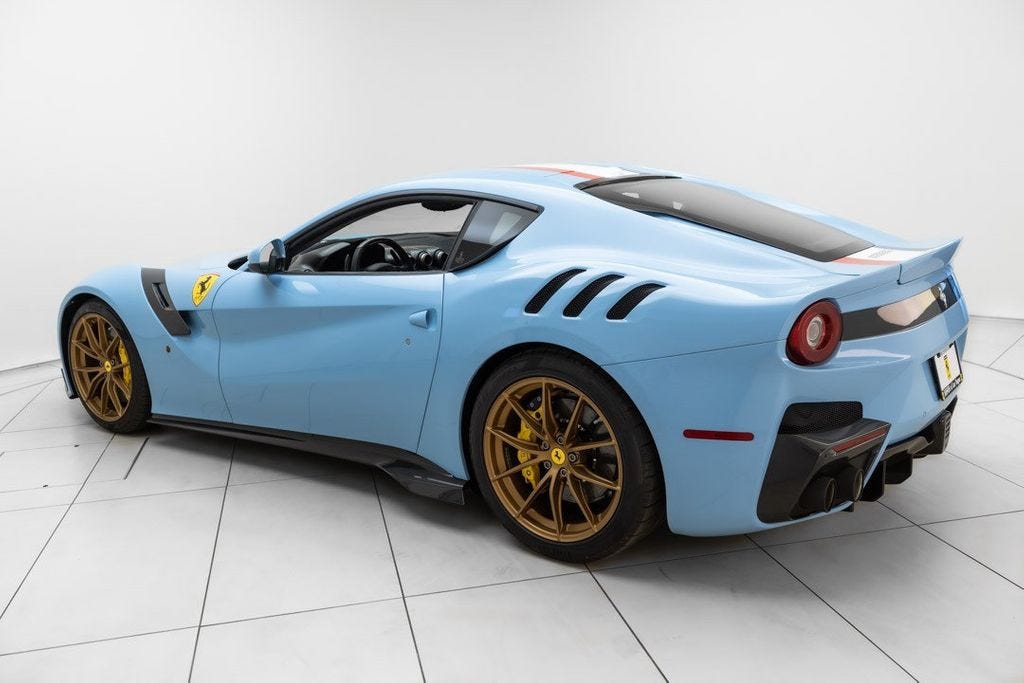 Gulf Blue and V12 Ferraris, does it get any better? In this case the color is actually referred to as Azzurro La Plata Livrea and the stripe is a tri-color Blu, Bianco, and Rosso all of which were "Extra Campionario" options which is a special level of customization available to Ferrari VIPs. This TDF shows just 247 miles which is only ~50 miles since it last traded hands at RM Sotheby's last August. Just 50 miles and the car has depreciated $330k - ouch. Still an absolutely amazing spec and the TDF is definitely on my list of cars to own one day.
---
If you haven't already, please subscribe below so you can be the first to know when new issues get posted. If you have subscribed, share it with your friends!
Have a car you think should be featured? Message me on Instagram @revmatch_garage