Welcome back to Weekend Driver! I've got a great three-pedal issue for you today so let's get to it.
---
1999 BMW M3 (E36 Coupe Dakar Yellow)
Mileage: 141,000
Price: Auction Ending Friday June 19, 2020
VIN: WBSBG933XXEY83979
Link: Bring a Trailer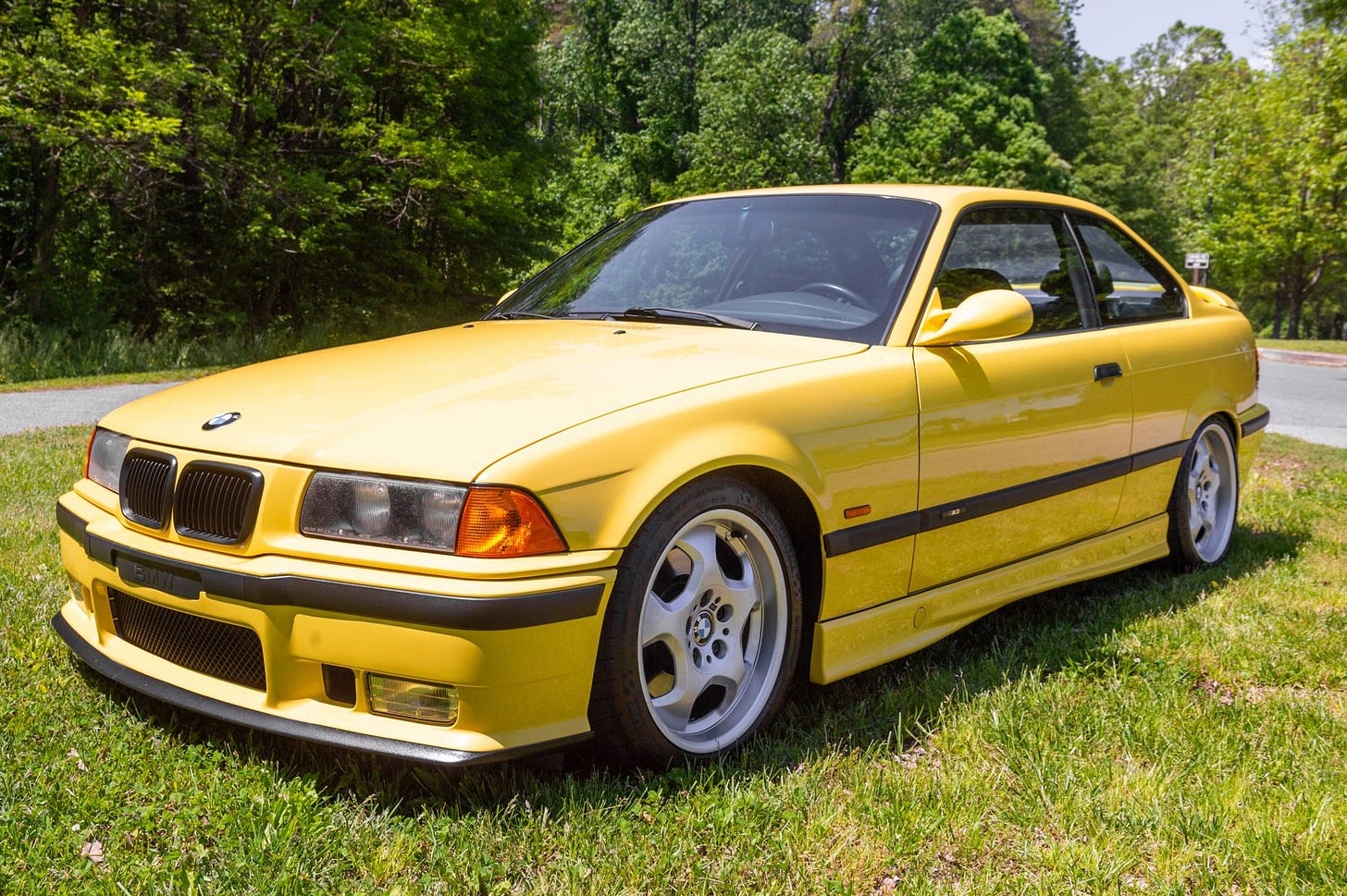 If you're looking for a Dakar E36 coupe, your options aren't abundant. At almost 150k miles this should be a good example for someone looking to really enjoy the car. Your miles won't cost you a penny in deprecation. Put 30k on it and sell it for what you paid. My kind of deal.
---
2004 Lamborghini Gallardo (Gated)
Mileage: 15,000
Price: Auction Ending Friday June 19, 2020
VIN: ZHWGU11M34LA01264
Link: Bring a Trailer
You know I love all things gated and this Lambo is no exception. Sadly though, this is an '04, making it the ugly step-child of Gallardos. If you bought an '04 Gallardo new, to quote Matt Farah, "you got hosed." He's not wrong; Lamborghini was going through a pretty massive transformation of ownership to VAG, and this is the car that was subjected to that new relationship. While it is gated, and avoids many of the issues that plague e-gear examples, it still has some glaring problems: the gearing in this transmission is 💩 (and was revised multiple times over the coming years), there's no available front axle lift, and it's the slowest Gallardo they made. Personally I'd hold out for an '05, or ideally an '06-'08, but of course, they get progressively more expensive.
---
1991 Porsche 911 (964 C2)
Mileage: 94,500
Price: $69,900
VIN: WP0AB2967MS410693
Link: Rennlist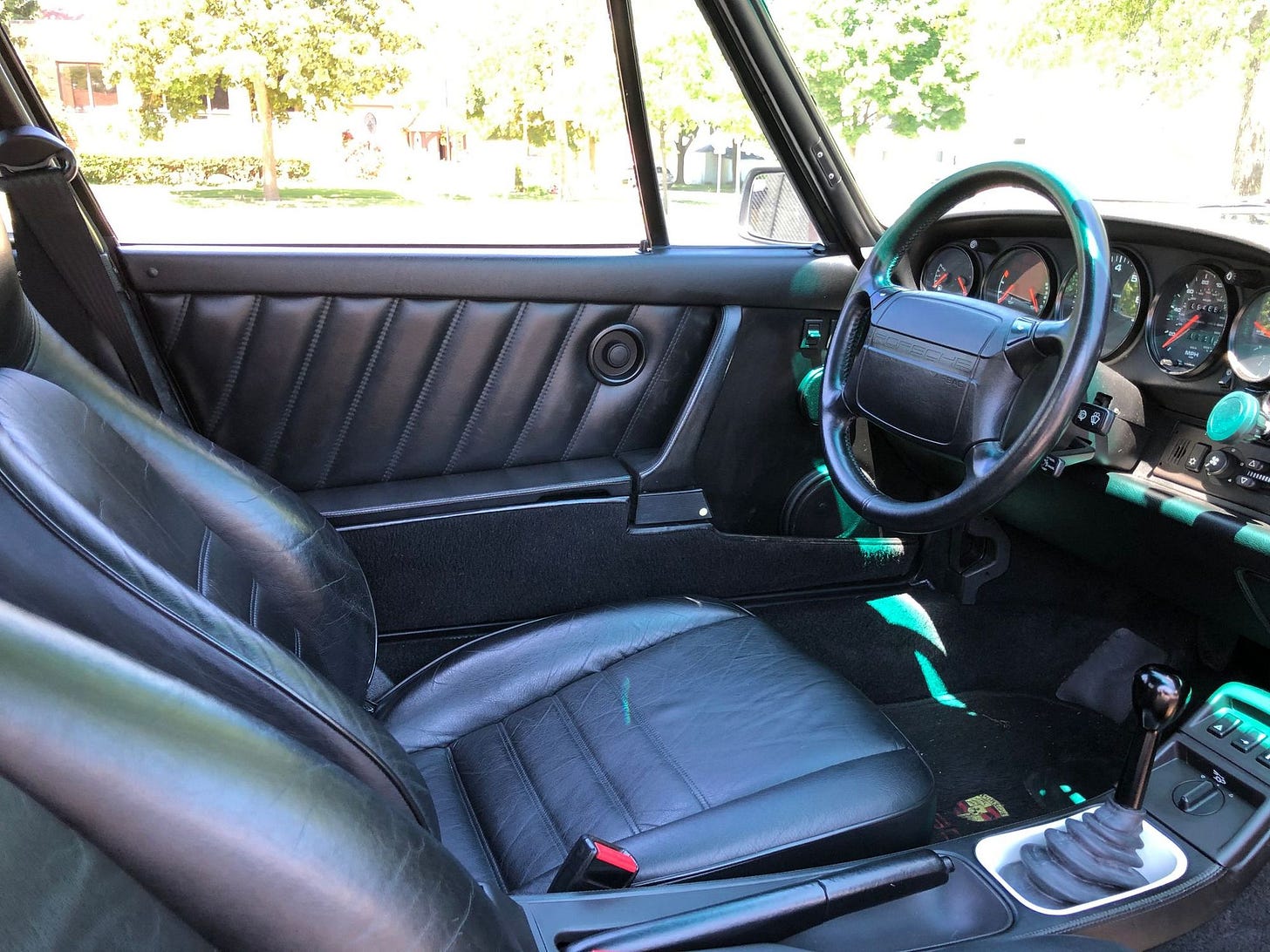 I have no first-hand experience driving air-cooled Porsches, but I've heard that an air-cooled 911 will ruin other cars for you. Looking at examples for sale, you might be inclined to say that the market agrees. This is another one where if you buy it right, you won't lose any value from putting some more miles on it. That said, if you give the seller their asking price, I think you overpaid.
---
2008 Honda S2000 CR (Apex Blue Pearl)
Mileage: 53,000
Price: $39,500
VIN: JHMAP21238S001010
Link: s2ki
This one needs a little love but considering the rarity of the color, I think it's priced right. Only 200 CRs were produced in Apex Blue Pearl and many have been modified (as evidenced by this example), tracked, and/or wrecked. The seller has done a good job documenting the car's modifications and condition and indicates that most of the stock parts are available. I think this is the right buy for the right person, if they are willing to put a little work into the car.
---
2008 Ferrari F430 (Gated)
Mileage: 7,412
Price: $210,000
VIN: ZFFEW58A480159289
Link: Autotrader
Another one! With the frequency I've been posting gated F430s, you might start to think that they're common, but they're actually extremely rare. I think the massive $250k sale on the gated spider I featured in Weekend Driver #4 prompted a few owners to try their hand at getting top dollar for theirs. Whereas the last coupe I featured seemed a bit high on price, this one is right on the money. I wish the seller provided better pictures, but the year, options, and mileage definitely make this a $200k+ car.
---
If you haven't already, please subscribe below so you can be the first to know when new issues get posted. If you have subscribed, share it with your friends!
Have a car you think should be featured? Message me on Instagram @revmatch_garage